Audio Converter Free Online
Convert audio from any file with the free and exceptional audio converter and extract audio in any format. Change your video/audio in MP3, WAV, AAC, AC3, M4A, FLAC, OGG, MP2, and AMR online without downloading any software. Extract audio from any format file without losing the quality with simple steps.
Convert any file with the powerful and reliable tool into any desired format. Extract audio from YouTube videos into any desired format. Convert your files into audio with a reliable and free easy-to-use online tool. Standout with the most transparent audio quality with simple touches. The tool works well for the video-to-audio converter for any video format.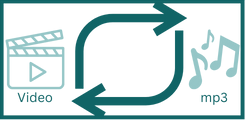 Best MP3 Audio Converter:
Convert your audio files to mp3 with the best online audio converter which guarantees quality. Extract audio from MP4 to any desirable format. This online converter gives you peace of mind with its powerful features which give the choice to users to convert their audio in any format. Make your audio crystal clear with the MP3 Audio converter.
Audio File Converter:
Convert your file into any format. Our tool supports many formats including video. Convert your files into audio with clean and clear audio. Change your video song into audio by uploading the file and converting it into mp3, Wav, M4A, FLAC, Ogg, mp2, and amr online. Extract any specific audio from a video or song to create a reel of your favorite song and dialogues.
How to Convert Files:
Follow the simple steps to convert your files into your favorite format.
1. Open your browser, and Enter the website URL as 'musicvideomp3.com'

2. Choose the file by clicking the choose file button and selecting the file you want to convert.

3. Click on the Upload button and upload it will take some time to upload the file on the server. Time depends on the file size.

4.Select the format of audio you want to convert and hit the convert button.

5. You can also play and control play speed without downloading the audio file.

6. After the file is converted download the audio file in your favorite mp3 format like 128kbps, or 320kbps.

Benefits of Online Audio Converter:
Here are some of the benefits of using our online audio converter.
Fast and Secure:
Converts your files quickly and your data is secure as we believe in our visitor's privacy and we don't save any data of our users. Upload your file and convert it to mp3 in no time which makes it the best online mp3 converter. Freely convert your personal files into audio without any fear.
Easy and Quality Converter:
With the simple UI converter, it is easy to convert files into mp3. It is the best mp3 song converter with many options to play. Convert your music into high-quality audio with our converter. Freely convert your files into audio without worrying about the quality.
All online Platforms Support:
Convert your files online using any browser. Our converter supports every online browser like Chrome, Mozilla, Microsoft Edge, Opera, etc. Users of any operating system can convert their files in any audio format easily. It works online you just need stable internet to convert your files into audio. The online converter will solve your issue with downloading and installing any software on your device.
Convert Video to Audio:
Support any video format like MP4, MKV, or AVI and convert them to any audio format like MP3, FLAC, OGG, MP2, or AMR without losing the quality of audio. These qualities make it the best music converter online which supports all formats to help you convert files easily.
Download Converted Audio:
Download your converted audio files after doing all the advanced settings and use the converted files anywhere. Share it with your friends or any Instagram page. Quality is guaranteed with our audio converter.
Customize Settings:
Our music converter let the users customize their audio settings to get the desired results. It makes you in charge of all the settings to get the best possible quality. You can easily customize settings before downloading the converted audio file.
FAQ:
Which is the best free audio converter?
The best free audio converter is musicvideomp3.com which gives users a lot of options to customize and also is easy to use which makes it the best free audio converter online.
Can I convert 128 kbps to 320 kbps?
Yes, you can but we suggest you not do it because the 128kbps file is already compressed and will not improve the quality of audio by converting the file into 320 kbps.
How do you convert a song to 320kbps?
Video-to-audio converter online helps to convert the song into audio. Upload the song and check mp3 and click the convert button it shows the quality you want to download select 320kbps and download your converted file.
What is the safest MP3 Converter?
Musicvideomp3.com is the safest website to convert your files into MP3. It does not save any of the users' files on their server. Your files are immediately deleted when you download them from the website.
Conclusion:
You can completely convert your files into audio online for free. Users can convert unlimited audio files. Easy-to-use free music converter helps users to convert video into high-quality audio. Convert your files into any audio format you like for free. Enjoy converting audio files online and sharing them with your friends too. If you are facing any issues regarding the audio converter contacts us by our email. We will sort out and solve the issue ASAP.